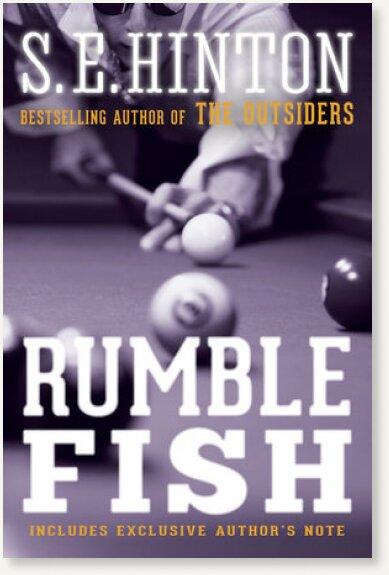 "Rusty-James," Steve said. I didn't look up. House sounded like he felt sorry for me and I didn't want to see him feeling sorry for me, because if I did I would hit him, no matter what.
"You're just like a ball in a pinball machine. Getting slammed back and forth; and you never think about anything, about where you're going or how you're going to get there..."
I didn't understand what he was talking about. I did think about where I was going. I wanted to be like the Motorcycle Boy. I wanted to be tough like him, stay calm and laughing when things got dangerous. I wanted to be the toughest street-fighter and most respected hood on our side of the river. I had tried everything...Even though nothing had worked so far, that didn't mean nothing ever would.
---
Synopsis
Rusty-James is the number-one tough guy among the junior high kids who hang out and shoot pool at Benny's, and he enjoys keeping up his reputation. What he wants most of all is to be just like his older brother, the Motorcycle Boy. But by his own admission, Rusty-James isn't a particularly smart person, and he relies more on his fists than his brains. Up until now he's gotten along all right because whenever he gets into something he can't handle, the Motorcycle Boy bails him out. But Rusty-James' lack of direction, his longing for the days of the street gangs and his blind drive to be like his brother eat away at his world until all come apart in an explosive chain of events. And this time the Motorcycle Boy isn't around to pick up the pieces.
---
S. E. Hinton on the book
Rumble Fish is the book I'm most proud of in a literary way - read it again at age twenty-five.
It's the easiest to read, the hardest to understand.
And definitely the hardest to write!
Publishing Information
First Published: 1975
Published by: Delacorte Press
Awards
ALA Best Books for Young Adults, 1975
School Library Journal Best Books of the Year, 1975
Land of the Enchantment Award, New Mexico Library Association, 1982