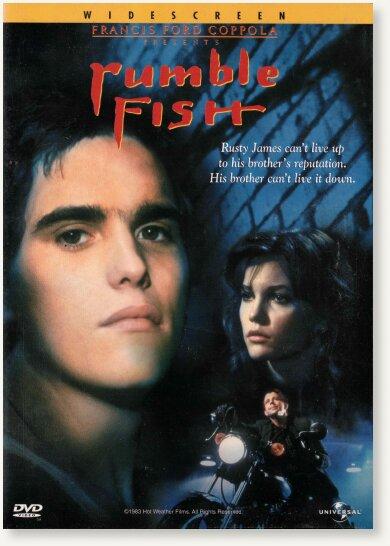 S. E. Hinton on the book
Rumble Fish was a difficult shoot. We had very long hours and uncomfortable conditions - Oklahoma is very hot in the summer and we worked mostly all nights.
Once again, the performances are amazing - Matt Dillon, Mickey Rourke, Dennis Hopper are outstanding. And Francis Coppola really understood the book, but stayed true to his own vision. It is his movie.
Rumble Fish is a very strange movie (R-Rated!) and people love it or hate it.
I love it.
(I have a bit part as hooker. I don't know why.)
---
Matt Dillon with S. E. Hinton on the set of the Rumble Fish.
A Universal Pictures release
Opened October 1983
Cast
Rusty-James - Matt Dillon
Motorcycle Boy - Mickey Rourke
Patty - Diane Lane
Father - Dennis Hopper
Cassandra - Diane Scarwid
Steve - Vincent Spano
Smokey - Nicolas Cage
B.J. - Christopher Penn
Benny - Tom Waits
Director
Producer
Fred Roos and Doug Claybourne
Photography
Screenplay
S.E. Hinton and Francis Ford Coppola
Music